The Nestle® Toll House® tradition began back in 1939 at the Toll House Inn in Whitman, Massachusetts, where proprietor Ruth Wakefield became known for the rich, indulgent desserts she baked for weary travelers. While experimenting one day, she chopped up a bar of Nestle Semi-Sweet Chocolate into tiny bits and added them to her cookie dough. Instead of melting through the cookie as she expected, the chocolate bits retained their shape, softening to a delicately creamy texture. The Toll House Cookie was born and quickly became a nation's favorite!
The very first Nestle® Toll House® Café by Chip® opened for business in August 2000, in Frisco, Texas. What followed was an explosion of interest in developing bakery cafés across the US, Puerto Rico, Canada, and the Middle East.
LIFE IS FULL OF TREATS
Our brand touches over 60 million customers per year. Primarily families, the customers experience fresh-baked Nestlé® confections prepared by passionate team members.
We believe unleashing the people and their passion for our brand in an inspired way, while staying focused on a purpose they can believe in, is an unstoppable force in the marketplace.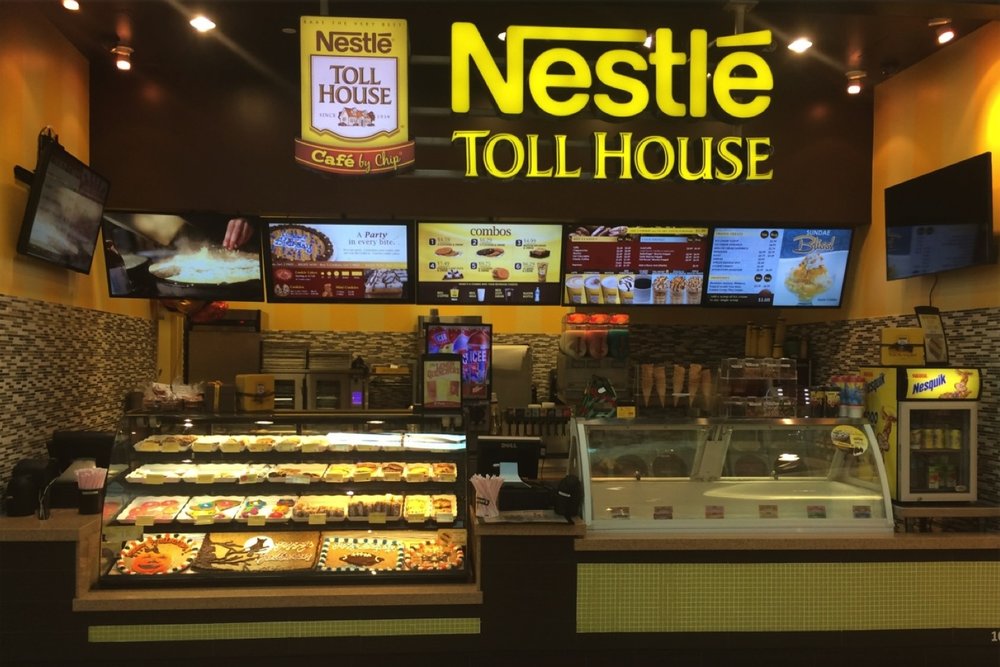 WHY US?
It's about relationship.
It's not by chance that Nestlé® Toll House® Café by Chip® continues to grow and have a phenomenal loyal consumer base. Like any good relationship, it seems the real secret to success is the ability to deliver a certain energy or vibe and uncommon creations that keep our consumers coming back for more. Our brand touches over 60 million customers per year.
ADVANTAGES TO NESTLE TOLL HOUSE
- Crest provides comprehensive guidance in selecting only the best locations coupled with help negotiating and securing reasonable leases.
- Multiple models for maximum flexibility with real estate requirements.
- Our project manager makes building your café easy.
- Complete and thorough training on all aspects of your new business is the platform for long-term success.
- Simplified operations allows you to focus on customers and business development.
- World-class support from our experienced field support team.
At the heart of our business is a vision to enrich the lives of others by creating the ultimate dessert experience.
With delectable treats and impeccable service, our guests leave with smiles that spread to the community.
IS THERE A BETTER BRAND IN THIS SPACE?
WE DON'T THINK SO!